Homeowners Association Roofing Contractors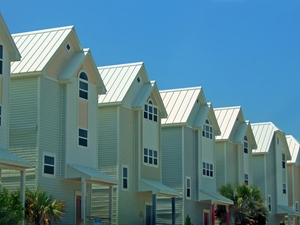 One of the most important aspects of a homeowners association is keeping the neighborhood looking its best. Perhaps the most difficult aspect of this effort is maintaining the roofing systems of communal property. At Tri State Roofing, our roofing contractors are here to assist you in this regard with quality solutions for homeowners association roofing in West Palm Beach and the surrounding areas.
Our professionals are some of the most experienced and skilled roofing contractors in the local industry. As such, we are capable of handling the largest scale roofing tasks. We are so adept at what we do that we have been awarded the Palm Beach County roofing contract for the last eight years, being one of four roofers to conduct all roofing services on county property.
Call Tri State Roofing today if your West Palm Beach homeowner association needs to hire a professionally licensed roofing contractor. Our courteous staff would be happy to discuss your needs with you and to inform you as to how we can provide for them. We can schedule your appointment today.
Highly Experienced Roofers in HOA Contracts
Our West Palm Beach roofing contractors are extremely experienced at working with homeowners associations and property managers. In all of our services, our goal is to form long lasting and mutually beneficial relationships with our customers. Through our high quality work, we want your homeowners association to know that you can rely on us for all your present and future needs related to roofing in West Palm Beach and the surrounding areas.
Here are just a few of the local communities and condominiums that we have worked for in the West Palm Beach area:
Breakers West
Palm Beach Polo Golf and Country Club
Evergreen Palm Beach Gardens
Casablanca Boynton Beach
Pine Ridge North Greenacres
Lang Management
The Continental Group
First Service Residential
A&G Management Services
Routine Maintenance for HOA Roofing in West Palm Beach & Nearby
The key to keeping the properties under your control in the best condition possible is diligent and routine maintenance. When you hire our West Palm Beach roofing contractors to provide for your homeowner association's needs, we will conduct inspections for you on a regular basis.
Through our routine roof inspection services, we will be able to identify and repair problems while they are slight. This reduces the overall cost of maintaining all of the roofing systems within your control. It also ensures that each of your roofs look their best and last for as long as possible.
Roofing Installations and Replacements
Our roofers have the skill and experience necessary to handle any type of project no matter the size. From single roof installations to full complex replacements, our professionals handle it all. Again, we will work our hardest to ensure that your new roof adds value to your property, beautifies the area, and protects the houses and buildings under your control for the longest time period possible.
If you would like to schedule service for homeowners association roofing in West Palm Beach or the surrounding areas, please call 561-337-7718 or complete our online request form.
Recent Articles
Roof Inspections in West Palm Beach Protect Your Property - One of the most important portions of your home or business is its roof. Not only does your roofing system beautify the exterior of your property, but it is also the first line of defense that your residence or building has against adverse weather conditions and the elements. As such, you have an obligation to keep your roof well maintained. … Read More
Common West Palm Beach Roofing Problems Repaired By Professionals - The roof of your West Palm Beach property provides you and your family with the comfort and security that you expect and deserve within your home. It is the first line of defense that your residence has against adverse weather conditions and the elements. As such, it is absolutely imperative that you keep your roof in the best condition possible. At Tri State Roofing, our West Palm Beach roofing contractors are here to assist you in this regard. We have the ability to repair the most extensive roofing damage. … Read More