The Preferred Boynton Beach Roofing Contractor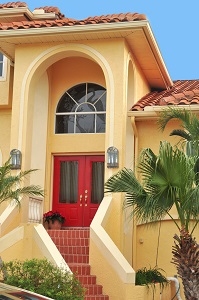 When you hire a roofing contractor, you are making an extremely important decision. Your roof provides your property with its first line of defense against weather and the elements. As such, you should hire a team of professionally licensed, experienced, and certified professionals. At Tri State Roofing, our Boynton Beach roofing contractors are those professionals.
We have over thirty years of experience in both the commercial and residential roofing industries. Each of our contractors is meticulously selected and trained. Our team is proud to be certified by the top manufacturers for all types of roofing materials. Bottom line, when you hire our contractors, you can rest assured knowing that you made the best choice for your property.
Call Tri State Roofing today if you need to install, inspect, or repair a roof in Boynton Beach. Our polite staff would be happy to take your call. Our knowledgeable experts can answer any questions that you may have. We can schedule your appointment today.
Roof Leaks Repaired By Skilled Experts
The primary purpose of your roofing system is to prevent water from entering your property. Once a leak occurs, the damage can occur at an ever accelerating rate. For this reason, catching and repairing leaks early saves a great deal of time, money, and frustration.
Our Boynton Beach roofing contractors are here to help you with minor and major repair tasks. Through our roof inspections in Boynton Beach, FL, our team can identify problem areas and minor leaks before any major issue occurs. This is by far the best way to ensure that your roofing system is in the best condition possible at all times.
Roof Installations and Replacements in Boynton Beach
At some point in time, every roofing system needs to be replaced. After years of exposure to the elements, every roofing surface will eventually fail. If you believe that you may need to replace your roof, our professionals can help you decide what is best for your home or business.
First thing, our contractors will inspect your roof to determine the extent of damage and to determine how much longer your roofing system can be expected to last. We can provide you with the advice and information that you need to make the best possible choice.
When you do replace your roof, there is no limit to what our roofers in Boynton Beach can accomplish. We install shingle, metal, tile, and flat roofing systems for both commercial and residential clients. Our goal is to beautify and protect your property for the long term.
If you are looking for a professional Boynton Beach roofing contractor then please call 561-855-0718 or complete our online request form.