About Your West Palm Beach Roofing Contractor, Tri State Roofing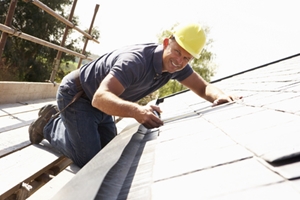 At Tri State Roofing, our West Palm Beach roofing contractors are dedicated to providing local residents and commercial property owners with the highest quality roofing services possible. Our team has over 30 years of experience in the roofing industry. Our long term success is the result of the one simple goal that we have in all of our efforts: to achieve the highest levels of customer satisfaction possible.
When you hire our team, you can feel confident knowing that you made the best choice for your property. We can care for any to of roof and sized roof at all stages of its service life, from installation to replacement. With our assistance, your roofing system will beautify and protect your property for the long term.
Call Tri State Roofing today if you are looking for a professionally licensed roofing contractor in West Palm Beach. Our courteous and polite staff would be happy to assist you in any way that we can. We can schedule your appointment today.
Why You Should Hire Our Roofing Contractors
Longevity: We know the roofing construction industry and what it takes to complete a successful roofing project. Of great value to us is the longevity of our leadership. The average tenure of our key staff members in the roofing industry is 20 years.
Experience: Our project experience ranges from residential roof repairs to commercial new roofs, from residential reroofs to commercial roof management. We have worked on a variety of projects, allowing us to think outside the box when looking for ways to provide for your needs.
Palm Beach County Annual Roofing Contract: Tri State has been awarded the Palm Beach County Annual Roofing Contract for the last 8 years. Tri State along with three other roofing companies service and maintain all Palm Beach County roofing needs. This includes all Palm Beach County Fire Departments, Schools, Police Departments, Aquatic Centers and Recreational Facilities to name a few. Employ us. Palm Beach County does.
Licensed: The State of Florida has stringent standards for licensing roofing contractors. We have met these standards.
Self-Performance Capability: We have the staff and expertise available to complete projects on time and within budget. Having the ability to self-perform roofing projects gives us more control over quality, budget and schedule.
Relationships: Because of our longevity in the roofing industry, we have strong working relationships with the contracting community around the state of Florida. These relationships are crucial when it comes to bidding a job or resolving an issue on a project.
Insurance: We are fully insured and committed to safety. There are inherent dangers to roofing. Tri State carries both workers compensation and liability insurance to protect the owner while work is being performed on their property.
Employees: We don't use untrained or uninsured sub contractors. We take pride in how long employees have been with us. Rest assured, if you do make the choice to use us at your next project, you'll be in some of the most capable hands in the business.
Follow-Up: Our One, Tree, Five, Ten, Twenty Year Warranty Follow-Up Program assists clients in the ongoing maintenance of their recently completed roofing projects. After interviewing clients over a two-year period on how to improve on the roofing services they received, we found that clients wanted additional assistance in the follow-up on warranted projects. As a result, Tri State Roofing initiated a program to solve this problem. We provide this successful program to our clients for a small additional fee.
Our Team
Our superior level of service starts from choosing to carry only top grade quality products, great communication skills from our office, and especially our installers. We understand how important choosing the right company is to you. With years of experience we are confident we can provide to you the comfort and peace of mind you need in order to help make the right decision for you and your family.
I sincerely appreciate the time you have given to read this letter and I hope we can earn your business.
If you need a roofer turn to Tri State Roofing.
Thank you,
The Tri State Roofing Team.
Services Our West Palm Beach Roofing Contractors Offer
Recent Articles
Roof Inspections in West Palm Beach Protect Your Property - One of the most important portions of your home or business is its roof. Not only does your roofing system beautify the exterior of your property, but it is also the first line of defense that your residence or building has against adverse weather conditions and the elements. As such, you have an obligation to keep your roof well maintained. … Read More
Common West Palm Beach Roofing Problems Repaired By Professionals - The roof of your West Palm Beach property provides you and your family with the comfort and security that you expect and deserve within your home. It is the first line of defense that your residence has against adverse weather conditions and the elements. As such, it is absolutely imperative that you keep your roof in the best condition possible. At Tri State Roofing, our West Palm Beach roofing contractors are here to assist you in this regard. We have the ability to repair the most extensive roofing damage. … Read More
If you would like to know more about our West Palm Beach roofing contractors, please call 561-855-0718 or complete our online request form.