The Local South Palm Beach Roofing Contractor of Choice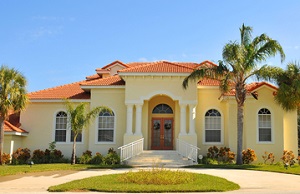 The roof of your home or business is extremely important. It provides your property with protection against severe weather and the elements. As such, you have a responsibility to keep it in the best condition possible at all times. At Tri State Roofing, our South Palm Beach roofing contractors are here to help you with this obligation.
Our professionals are adept at both residential and commercial roofing services in South Palm Beach, FL. We work with shingle, tile, metal, and flat roofing systems. We can care for your roofing system at all stages of its service life, from installation to replacement. The one constant in everything that we do is our goal to achieve the highest levels of customer satisfaction.
Call Tri State Roofing today if you need to hire a professionally licensed roofing contractor in South Palm Beach. Our team would be honored to assist you in any way that we can. Our knowledgeable staff can answer any questions that you may have about our exceptional line of services. We can schedule your consultation today.
Commercial Roofing Services in South Palm Beach
Our South Palm Beach commercial roofing contractors have the knowledge, skill, experience, and capability necessary to handle any sized project. For the last 8 years, we, along with three other contractors, have been hired to provide for roofing services for all Palm Beach County properties.
As such, we have been tasked and trusted with the most extensive and intricate tasks. Our track record of proven success is evident. When you hire our professionals to care for your commercial property, you will be receiving the highest quality roofing services possible.
Roof Inspection Services in South Palm Beach
In South Palm Beach, we get a large amount of yearly rainfall. Precipitation, sun light, exposure, and other elements are constantly eroding the surface of your roofing system. As such, the vast majority of roofing damage occurs gradually and insidiously.
Minor leaks can occur on your roof and not be visible or noticeable for months or years. In order to identify and repair these leaks, it is essential to hire a professionally licensed roofing contractor to conduct routine inspections.
Our roofing repair experts specialize in inspection services for both commercial and residential property owners. We can identify and repair all of the problem areas on your roof. Afterwards, your can rest assured knowing that your roofing system is in the best possible condition. You are guaranteed to be satisfied with the results of our efforts.
If you are looking for a professional South Palm Beach roofing contractor then please call 561-855-0718 or complete our online request form.